#include <called.h>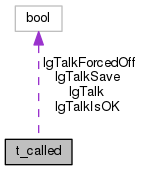 [legend]
should we print info? usually true, set false with "print off" or "print quiet" commands
Definition at line 12 of file called.h.
Referenced by AbundancesPrt(), AbundancesSet(), cdInit(), cdMain(), cdTalk(), cloudy(), ContSetIntensity(), ConvFail(), CoolEvaluate(), Parser::echo(), GetModel(), grid_do(), gridXspec(), HeatSum(), InterpolateGridCoStar(), InterpolateModel(), InterpolateRectGrid(), iter_end_check(), IterRestart(), IterStart(), lgCheckMonitors(), lgOptimize_do(), map_do(), mie_read_opc(), optimize_func(), ParseAbsMag(), ParseCommands(), ParseElement(), ParseFill(), ParseInterp(), ParseMetal(), ParseQH(), plot(), pltmap(), PrtComment(), PrtFinal(), PrtHeader(), PrtZone(), read_whole_line(), SaveDo(), and zero().
bool t_called::lgTalkForcedOff
bool t_called::lgTalkIsOK
bool t_called::lgTalkSave
saves inital value of lgTalk in case it needs to be reset
Definition at line 15 of file called.h.
Referenced by IterStart(), and zero().
---
The documentation for this struct was generated from the following file:
/home66/gary/public_html/cloudy/c17_branch/source/called.h