My Question: How can I make a curved mirror?
Sally's answer
This depends a lot on what you want to use the mirror for.
*Curved mirrors are used in telescopes, for example, and these must be extremely precise and the surface must be very highly reflecting. Amateurs make them all the time, but it is the sort of project that you work at all weekend for months.
*A curved mirror can be used for a magnifier. You probably already have one around the house -- "make-up mirror" is probably what it is called. These are not as fussy about precision. In fact, a metal spoon with a reflecting finish will already show you the effect; it might be fun to see how many examples you can find of curved surfaces that can be used as a magifier (or demagnifier, if you look at the other side).
*A curved mirror can be used to collect light, for a solar collector. I'm betting this is what you are trying to do. The good news is that this isn't very hard, because it doesn't matter too much if some of the light goes the wrong place.

The basic idea is to make a bowl that is pretty nearly the shape of part of a sphere, and then make the inside surface reflecting.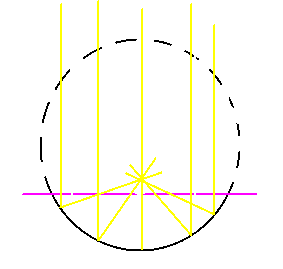 This shape will reflect the sun's rays so that they all come together at (nearly) the same point. We want a wide mirror, so that it catches lots of sunlight; but making the wirror wider than my picture indicates (the part below the purple line) doesn't gain much and adds a lot of effort in the construction. The focal point is half-way between the center of the sphere and the sphere surface. I made a mirror of this sort once that was 4 feet wide. I was interested in reflecting sound, rather than light, which meant that the surface didn't have to be silvered. The easiest way to make this is to find a large round ball that is pretty round and smooth. A soccer ball or a beach ball might do. Hopefully, this is pretty well inflated, so that it isn't squashy and sagging. We can capture the shape of the ball by gluing many layers of paper strips to the ball (to make a paper mache' bowl). When the glue has dried, peel the bowl off of the ball, and then glue strips of aluminum foil to the inside.
Try out the solar collector by facing it towards the sun (in my picture I assumed the sun is straight up, which it almost never is); this should produce a bright (and hot) spot where the sun's rays meet.